Riley kid gets surprise visit from Batman
ALBANY, Ind. (WTHR) — We all have a time in our life where we wish we could call a superhero to help us out. A 7-year-old Riley kid from Albany, Indiana needed a lift. Batman's career has always been about fighting for good and for what is right. Today he took that fight to Albany […]
ALBANY, Ind. (WTHR) — We all have a time in our life where we wish we could call a superhero to help us out.
A 7-year-old Riley kid from Albany, Indiana needed a lift.
Batman's career has always been about fighting for good and for what is right.
Today he took that fight to Albany Elementary to team up with Christian Daugherty who has undergone four brain surgeries since he was first diagnosed with brain cancer just one year ago.
"We go for our next MRI to see what it's been up to tomorrow. So we got a nice injection of hope before we go into the MRI scan to see if anything happened," said his father, Brad Daugherty.
Batman came for a visit but the surprises were not done there. Batman had another surprise parked outside and the entire school went out to see it.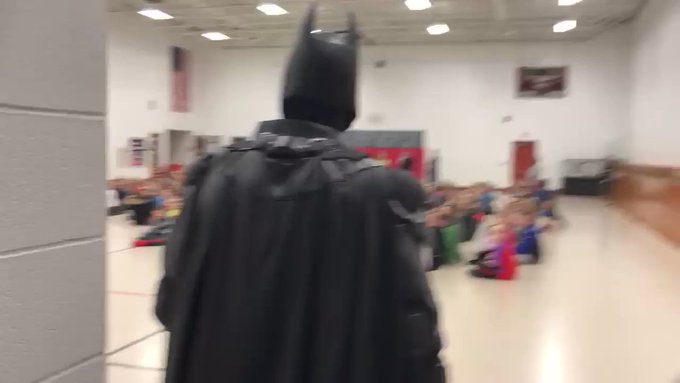 Batman makes a surprise appearance at Albany Elementary school to lift the spirits of a student fighting brain cancer. Story at six on EWN.
See Kevin Rader's other TweetsTwitter Ads info and privacy

"It's been the worst and the best of time in my life. I've never felt so loved and lifted up but yet my son is battling cancer," said his mother, Amanda Daugherty.
Then the two took off.
"Na na na…Na na na na. Batman," Christian exclaimed the Batman TV jingle.
"He has so much trust in God and so much love from our community and from each other," added mom admiringly.
"It was an amazing and I beat my goal today," Christian revealed at the end of the day. "By not going to the nurse at all," he answered with the chilling innocence of a child.
The nurses will come tomorrow. Today it's all about the Bat.
"Jingle Bells Robin smells Batman laid an egg," Christian sang as the Bat Mobile pulled away from the front of his school.
"That's right," Batman encouraged. "Bat mobile lost a wheel and Joker got away. Isn't that right," the Bat asked his sidekick.
"Batman does not smell," Christian corrected. "Nope," the Bat concurred as the car disappeared down the road.
If you know a child who could use a pick-me-up like Christian, find Heroes 4 Higher on their website and Facebook pages.